OAKLAND SUMMER CAMP · DATES: 6/14–8/20 · AGES: 4–12 · ADDRESS: Park Day School (use entrance on 43rd St), 360 42nd St, Oakland, CA · oakland@steveandkate.com · 510.254.3720
Kids Take Charge
At Camp, kids take chances and take charge, shaping their day, their way. More choices and fewer expectations creates more possibilities, more self-trust and less self-doubt. 
Our adaptability works to our advantage. Right now we can't quite operate as usual, but we've made the most of mandates and modifications so that kids can make moves (or movies, or magic monster mittens) that matter to them.
Fair And Flexible Fees
Buy any number of days (or weeks, due to pandemic procedures) without worrying you'll lose what you don't use. If plans un-plan or cancellations crop-up, we'll always issue refunds for any unused Passes after the Camp session wraps for the season. It's how our enrollment rolls with the punches.
New Format, Same Flex
Modifications are required for both registration and rollout of activities as we navigate pandemic protocols. Booking by week instead of by day, and moving through Camp in smaller pod-like "Squads" will feel different than past years. But, these adjustments are temporary (and for everyone's safety) and won't compromise our commitment to featuring fan favorite programming and issuing fair, automatic refunds.
What The Day Will Look Like
After registration, but before attending, campers select and sign up for an interest-based, pod-like group, called Squads. At Camp, they'll gather with their fellow enthusiasts in indoor or outdoor spaces, to immerse themselves in activities or pursue projects with an emphasis that speaks to their tastes (or, in Sampler Squads, a little bit of everything!). Each Squad will have related go-to supplies and equipment, as well as general goodies for games and artistic freestyling. 
Campers will also have the opportunity to enjoy outdoor classes, socially distanced indoor and outdoor rec, performances, fan-favorites like Gameshow, gaga, and wacky inflatables, or cruise a circuit of rotating activities featuring Lego blocks, dynamic marble runs and more. All activities are available to every camper, no matter their age.
Our current Squad list looks a little like this: 
Interest-Based Squads
Campers sign up for these "mini-camps" within the camp before attending.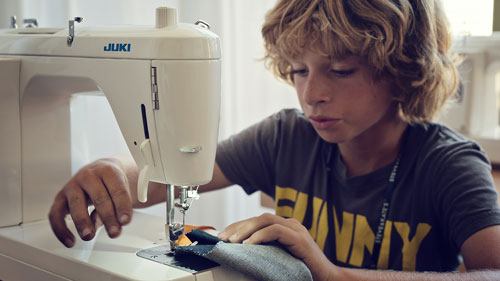 Stitching Society
Sewing with sewing machines, knitting, crochet, hand sewing and embroidery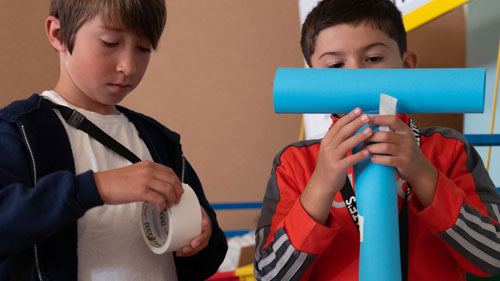 Maker Crafts
Basic maker kits, fort building, digital drawing with a stylus, and Rexlace
Athletic Association
Sports, playground games, pillow polo, coneball, capture the flag, and obstacle courses
Sampler Squad
Tastes and tries of sewing machine projects, animation, coding/digital games, board games, Rexlace, game tables, and arcade favorites
Rotating Activities
These activities cruise through Squads for more chances to choose.
Food or Clay Activity
Campers can get their hands messy making something to eat or sculpting something to take home
Dynamic Marble Runs
Marble sports are the in-thing this year and campers can create their own raceways that twist, turn and send marbles flying down the track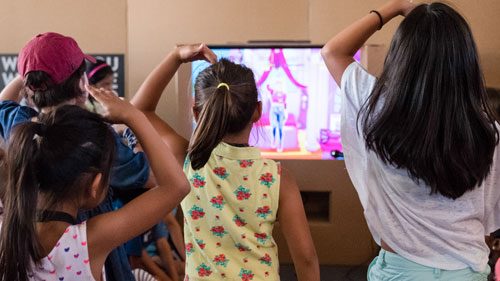 Nintendo Switch™
When campers can't visit the camp Arcade, we bring it to them
Sewing machine and Basic Supplies
For Squads that don't specialize in sewing, this kit makes the rounds for campers who want to get crafty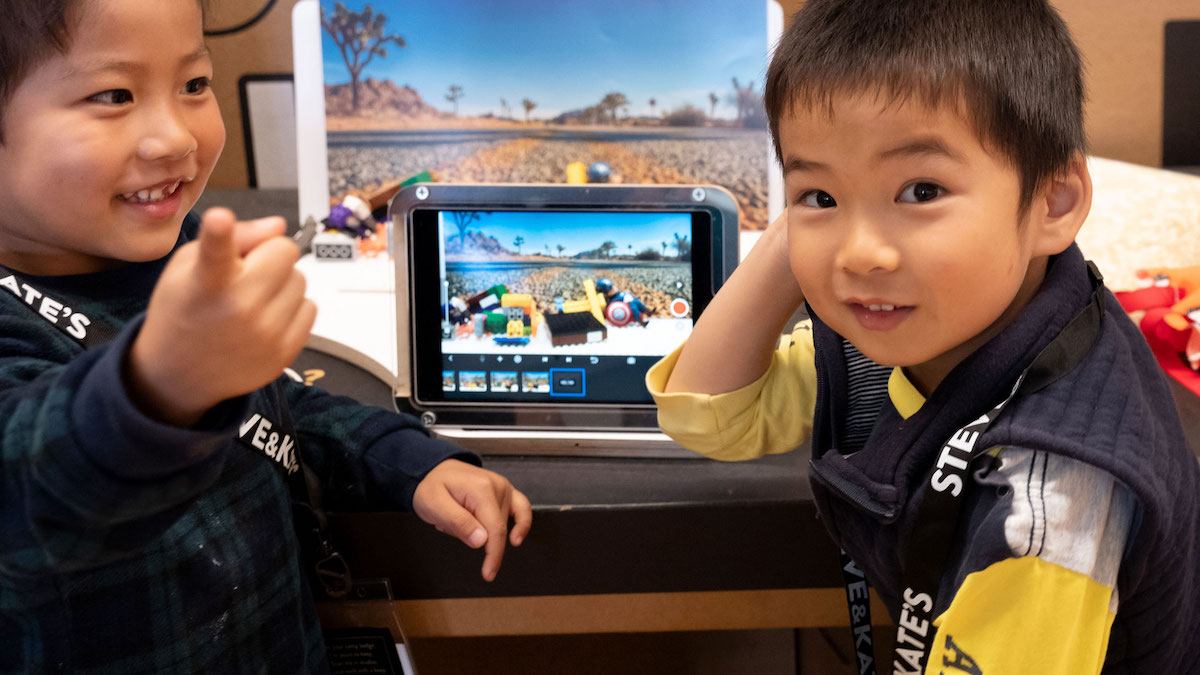 Animation Stations
Campers create their own stop-motion movies and shorts with our custom Animation Stations. Kids will run the entire show from designing the sets & story, to editing the final project
Dominoes and LEGO
Building with blocks never goes out of style and doing it with your friends adds a whole other dimension
Classes, Specials, Water and Outdoor Play
Campers may choose to venture beyond their Squad and participate in socially distanced classes, performances and good ol' outdoor play. These will differ depending on location.
Special Daily Events
Performances such as a magician, a dance troupe or a stunt bicycle rider
Active Outdoor Classes
Possibilities include martial arts, yoga, and hip-hop dances
Inflatable Slip 'n Slide
Our classic slip-and-slide with an inflated track and a splash pool at the end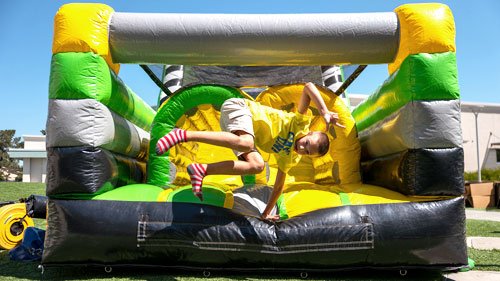 Recreation Specials
A climbing wall, inflatable obstacle course, and other large active recreational equipment are all possible this summer
Online Workshops
Campers will be able to log-in to a variety of Online sessions throughout the day
Gaga
This camper favorite involves dodging, striking, running and jumping a rubber playground ball in an octagonal walled pit
Kid-thusiasts
Our sites are staffed with kids' number one fans, hailing from all kinds of backgrounds but with the common denominator being they're all about our campers. Curious, compassionate and creative, both our year-round and seasonal teams are eager and equipped to give kids just the right amount of structure and guidance.
All staff members are at least 18 years old, are background checked, and are trained in CPR and First-Aid. Counselors will wear masks at all times and are trained on all COVID-19 best practices.
Lunch Is On Us
We provide lunch and snacks in alignment with the current state safety guidelines of our new normal. While more options will be added later, we know that we can provide caesar salad and sunbutter and jelly sandwiches daily, on top of campers' favorite item: pizza. Hot from ovens and in sealed boxes, we can get this item safely into kids' hands without worry. You can, of course, choose to pack something instead or as a supplement.
We'll also offer an array of snacks for kids to nosh on throughout the day. All snacks will arrive to each squad pre-portioned. We'll announce specific line-ups closer to the start of season, but rest assured, tummies will be full.
Daily Menu
V = Vegetarian, VV=Vegan, GF = Gluten Free, DF = Dairy Free, SF = Soy Free, EF = Egg Free
No items contain nuts or nut products. However, some may have been prepared in areas that also produce items with nuts.
Cheese Pizza (V)
Sunbutter & Jelly Sandwich (V)(EF)
Caesar Salad 
Hot Dog 
Pasta w/ Marinara (VV)(SF) can be (GF) by request
Cheese Pizza (V)
Sunbutter & Jelly Sandwich (V)(EF)
Caesar Salad 
Hot Dog
Cheese Quesadilla (V)(EG)(SF) can be (GF) by request
Cheese Pizza (V)
Sunbutter & Jelly Sandwich (V)(EF)
Caesar Salad 
Hot Dog 
Vegetable Turnover (V)(SF)(EG)
Cheese Pizza (V)
Sunbutter & Jelly Sandwich (V)(EF)
Caesar Salad 
Hot Dog
Mac &  Cheese (V)(SF)(EG) can be (GF) by  request
Cheese Pizza (V)
Sunbutter & Jelly Sandwich (V)(EF)
Caesar Salad 
Hot Dog 
Rice & Bean Burrito (VV)(SF)
Flexible and Fair
For as long as COVID regulations require it, registration will be in weekly blocks, instead of by the day (which is our norm). So, please think about your plans in weekly increments. That being said, we know that things happen. If you do miss a day, we'll still refund it automatically—COVID may impact flexibility, but it won't impact what is fair. Fees include lunch, snacks and all hours 8:00am to 6:00pm.
Registration will be in weekly blocks, instead of by the day (our norm). So, please think about your plans in weekly increments. That being said, we know that things happen. If you do unexpectedly miss a day, we'll still refund it automatically at summer's end. Fair is fair.
For anyone attending more than 30 days, consider our Summer Pass, with one fee that covers the entire summer. If you end up coming to camp less, worry not. We'll add up what you would have paid at the Day Pass rate and refund the difference automatically at summer's end.
Steve & Kate's also offers limited need-based financial aid to qualifying families. For more information please see our Financial Aid page.
Please be sure to read our Things to Know Before Coming to Camp page for important information including COVID safety procedures and pick-up & drop-off instructions.
Dates & Times
June 14th–Aug. 20th
*Closed July 5th
Mon.–Fri. 8:00 am–6:00 pm
Ages
In California, we welcome campers between the ages of 4-12.
Online...for now
We want to meet you and your camper. Our directors work year-round and would love to help you learn more about our program and at the same time learn more about you and your camper. To keep everyone as safe as possible, we're encouraging families to email, call, or schedule a virtual hangout with their director.
Roxy
Roxy, is our Oakland director. This is her 6th year directing camp with us, but she's been working with Steve & Kate's Camp for a decade now. Roxy loves basketball and when not at camp you can generally find her shooting hoops at any open court in Oakland, or hanging out at Lake Merritt.
This summer Roxy is most excited to hang out with campers–new and old!
Still have questions? We'd love to chat and see how we can tailor camp to you! Get in touch with Roxy, your Oakland Director:
Call or text: 510-254-3720 | oakland@steveandkate.com
Really Important Camp Information
This summer there will be no onsite parking. All families must enter campus from 43rd St where we will host drive-thru style drop-off/pick-up. Drop Off & Pick Up Procedures
During the bulk of the day, our campus will be closed. If you arrive outside of our normal drop-off and pick-up hours (8am - 10am and 330-6pm), please be sure to text or call us a little before you arrive, so we can come meet you at the gate.
For pick-ups, please text us your child's full name 10 minutes before arriving at camp so we can get your camper(s) ready. Then have your photo ID ready to show your director when you pull up to camp.
If you need to speak to a Director, we highly encourage calling or emailing us so we can limit our in-person interactions to urgent matters.
Check out our virtual camp orientation for details relevant to all of our camp locations, including how to check-in and check-out, what to bring (and not bring) and more.
Staff and campers will have to complete a wellness survey and/or other screening to identify any potential health concerns upon arrival each day. 
You can expect the following at all locations: bathrooms cleaned between each group, equipment sanitized and disinfected before use each day, individual places to store camper belongings, and plenty of hand sanitizer, hand washing, and self-applied sunscreen to go around.