MONTCLAIR WINTER CAMP · DATES: 12/20-12/23; 12/27-12/30 · AGES: 4–12 · ADDRESS: Lacordaire Academy, 155 Lorraine Ave, Montclair, NJ 07043 · montclair@steveandkate.com · 973.587.8420
Montclair Winter Break Camp
Kids Take Charge
Every aspect of our program is designed to put kids in charge of their own learning experience. At Steve & Kate's, campers choose from a variety of activities in real-time, as they design their day at camp. As kids try, fail, and learn on their own–they learn to trust their own judgment. These will ultimately be the kids who are prepared to tackle the challenges of an ever changing world with creativity and confidence.
Fair, Flexible, & All-Inclusive Fees
This winter we'll be open for two 'weekly' camp sessions: Dec. 20–23, and Dec. 27–30. Reserve one or two winter sessions, made up of 4 Day Passes each, without worrying you'll lose what you don't use. If your plans change for any reason, we'll automatically refund any unused Day Passes in full in January. Fees include lunch, snacks, and all hours & activities.
Advanced Reservations Required
Modifications are required for both registration and rollout of activities as we navigate pandemic protocols. This winter families will be required to reserve their weekly sessions prior to attending camp. In order to provide care for as many full-time campers as possible, we ask that families please only reserve the session if they plan to attend the full, four-day week. Still, pandemic or not, we'll refund unused days if anything comes up.
What The Day Will Look Like
During registration families will select a small, pod-like group called a 'Squad', for each session they attend. Each Squad will have go-to supplies, equipment, and goodies for games and artistic freestyling, as well as access to rotating activities and specials throughout the day.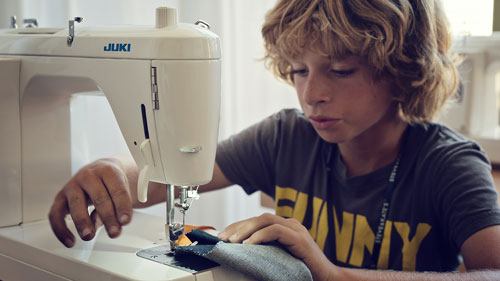 Sewing & Stitching
Sewing with sewing machines, knitting, crochet, and hand sewing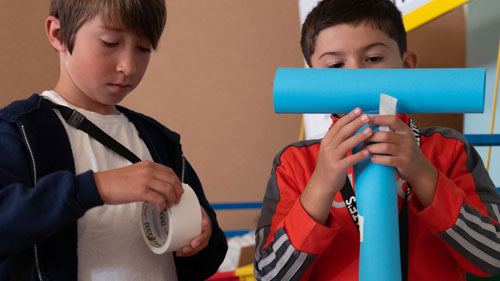 Maker Crafts
Basic maker kits, digital drawing with a stylus, and Rexlace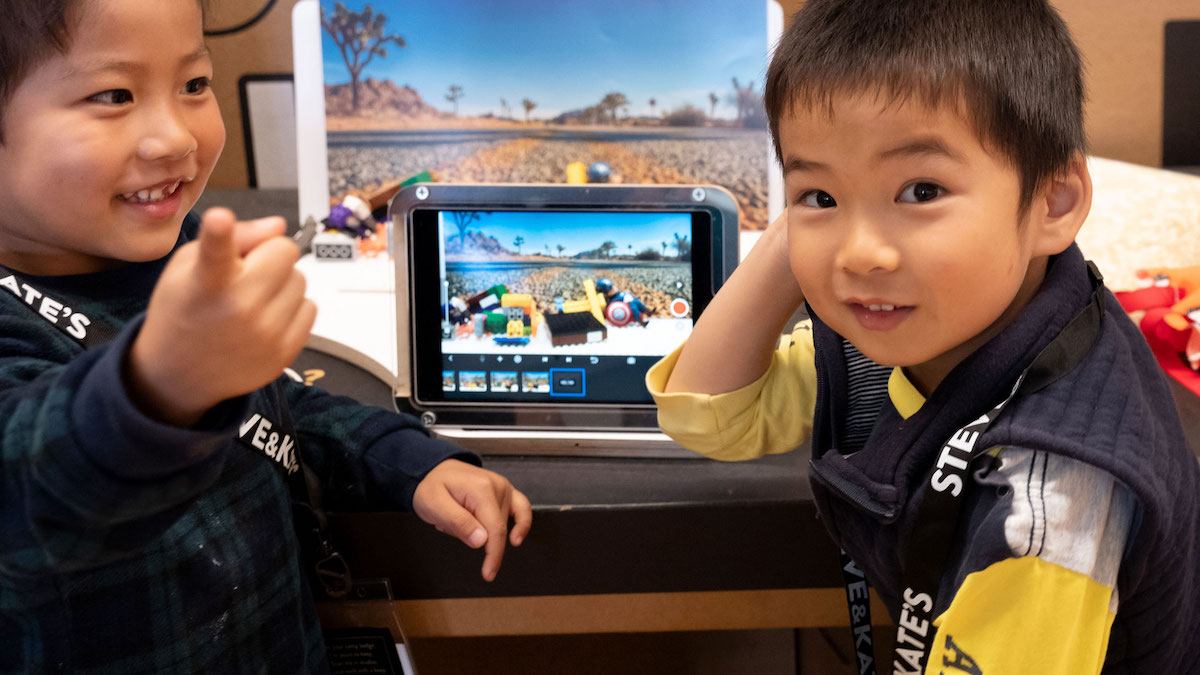 Stop-Motion Animation
Produce and film stop-motion animation movies & shorts with our custom animation stations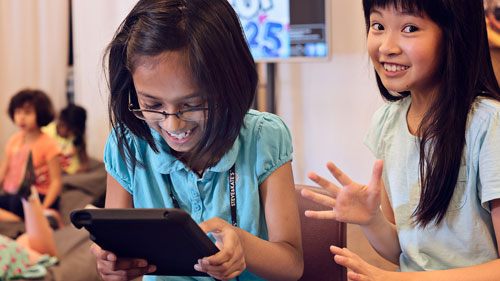 Coding and Gaming
Coding/computer building activities, iPads with a variety of coding and digital gaming apps, and assorted card games
Sports & Recreations
Sports, playground games, pillow polo, coneball, capture the flag, and obstacle courses
Arts, Crafts, & Lounging
Drawing, board games, books, table games, and other crafts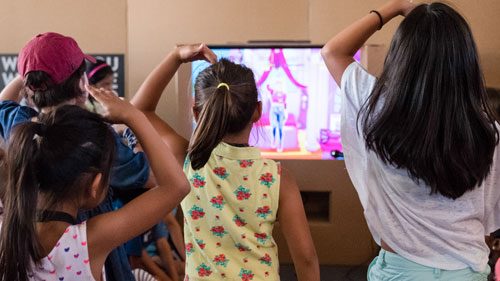 Nintendo Switch™
When campers can't visit the camp Arcade, we bring it to them
Gaga
This camper favorite involves dodging, striking, running and jumping a rubber playground ball in an octagonal walled pit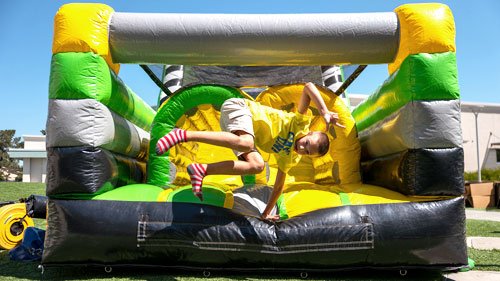 Recreation Specials
A climbing wall, inflatable obstacle course, or other large active recreational equipment are all possible
Montclair Winter Specials
Check out what specials are coming to your camp location. Specials will be used by one group at a time and sanitized between uses.
7 Element Inflatable Obstacle Course
December 20th - 23rd
Super Hero Inflatable
December 27th - 30th
Thursday is Pie Day! 
Lunch Is On Us
We provide lunch and snacks in alignment with the current state safety guidelines of our new normal. Each day campers will choose from sun-butter & jelly sandwiches, cheese pizza, or one of the entree specials listed below. You can, of course, choose to pack something instead or as a supplement. We'll also offer an array of snacks for kids to nosh on throughout the day.
Daily Menu
VG = Vegetarian, GF = Gluten Free, DF = Dairy Free, SF = Soy Free, EF = Egg Free
No items contain nuts or nut products. However, some may have been prepared in areas that also produce items with nuts.
Cheese Pizza (VG)
Sun-butter & Jelly Sandwich (VG)(EF)(DF)
Daily Options Provided By Amore Pizza
Monday: Pasta Marinara
Tuesday: Meatball Sub
Wednesday: Mac 'n Cheese
Thursday: Chicken Sandwich w/ Marinara Sauce
Campers will have plenty of snacks throughout the day. All snacks will arrive to each squad pre-portioned and in alignment with the current local safety guidelines. 
Flexible and Fair
For as long as COVID regulations require it, registration will be in weekly blocks, or four-day blocks for Winter Camp, instead of by the day (which is our norm). So, please think about your plans in weekly increments and plan to purchase enough Day Passes to cover your full, four-day session(s). That being said, we know that things happen. If you do miss a day, we'll still refund it automatically at winter's end. Learn more about our automatic refund policy here.
We also offer need-based financial aid to qualifying families. Learn more or submit an application, here.
Our Day Pass includes lunch, snacks, and all hours 8:00am to 6:00pm.
Dates & Times
Winter Camp Sessions: 
Dec. 20-Dec. 23
Dec. 27-Dec. 30
8:00 am - 6:00 pm
Location
Lacordaire Academy
155 Lorraine Ave,
Montclair, NJ 07043
Ages
In New Jersey, we welcome campers between the ages of 4-12
We want to meet you and your camper. Our directors work year-round and would love to help you learn more about our program and at the same time learn more about you and your camper.
Call or text: 973-587-8420 | Email: montclair@steveandkate.com
Mike–Your Local Director
This will be Mike's fifth season at Steve & Kate's Camp. Before that, Mike taught middle school science for seven years! Outside of camp, Mike enjoys watching movies, reading comics, and weight lifting, and can generally be found hanging out in parks with his daughter.
This year Mike is most excited to see what creative projects and events campers dream up. Last year his NY site hosted a fashion and talent show, and he hopes to continue those traditions this year.
Still have questions? We'd love to chat and see how we can tailor camp to you! Get in touch with Mike, your local Director:
Testimonials From Our Camp in Montclair
Really Important Camp Information
Please be sure and read over our Montclair Winter Drop-Off & Pick-Up Procedures before your first day.
All campers must have up-to-date immunization records to attend camp. Please fill out this form detailing their immunization dates.
Staff and campers will have to complete a wellness survey and/or other screening to identify any potential health concerns upon arrival each day. 
You can expect the following at all locations: bathrooms cleaned between each group, equipment sanitized and disinfected before use each day, individual places to store camper belongings, and plenty of hand sanitizer, hand washing, and self-applied sunscreen to go around.
BE THE FIRST TO KNOW ABOUT SITE UPDATES, EVENTS, REGISTRATION SPECIALS, AND MORE!