Have Anything New For 2023?
Sure do. We ask ourselves daily what would be best for kids and then work our tails off to innovate new stuff to blow their minds at camp. Sometimes we accomplish just that. Other times we're met with that face kids have after hearing a bad dad joke. Either way, we never rest until we feel like we've got something good.
Here are some highlights of what's in the works for Summer 2023:
Food Refresh
This summer families can expect to see a refreshed food program that's exciting for both campers and adults. We'll have more diverse & thoughtful choices throughout the week. We even hired a brand new Program Manager, Lauren, to oversee our revamped food initiatives. We've carefully selected a menu of snacks and lunch entrée items that naturally adhere to as many of our campers' allergies and dietary needs as possible. You'll see items like fresh sandwiches, soups, and bagels on the menu for most camp locations, as well as regional specials from local food purveyors. Lauren is also working hard to bring your kiddos snacks with ingredient integrity and minimal processing or use of preservatives. All while still being kid-friendly and fun-to-eat. Look out for snacks like fresh fruit, natural yogurt, peanut-free butter pouches, & more. You can find your local camp's menu on your camp page closer to summer. See all of our '23 Summer camp locations, here. 
Program Updates
Returning campers can get excited for some big additions to camp staples such as our Media Lab and Tinker Lab (previously known as the Makery). Take a sneak peek:
MEDIA LAB:
This year we're expanding our robotics offerings. Within the Media Lab, campers will have access to the latest in robots and robotic equipment, promoting learning and problem-solving while having a great time. This space is filled with a mix of guided activities and self-directed games and tools such as robot landscapes and custom mazes. In addition to our robotics activities, families will enjoy a refreshed collection of apps on time-controlled iPads. These apps are chosen to encourage learning and collaboration, as well as inspire projects that can be saved to campers' online accounts to enjoy with the family at home.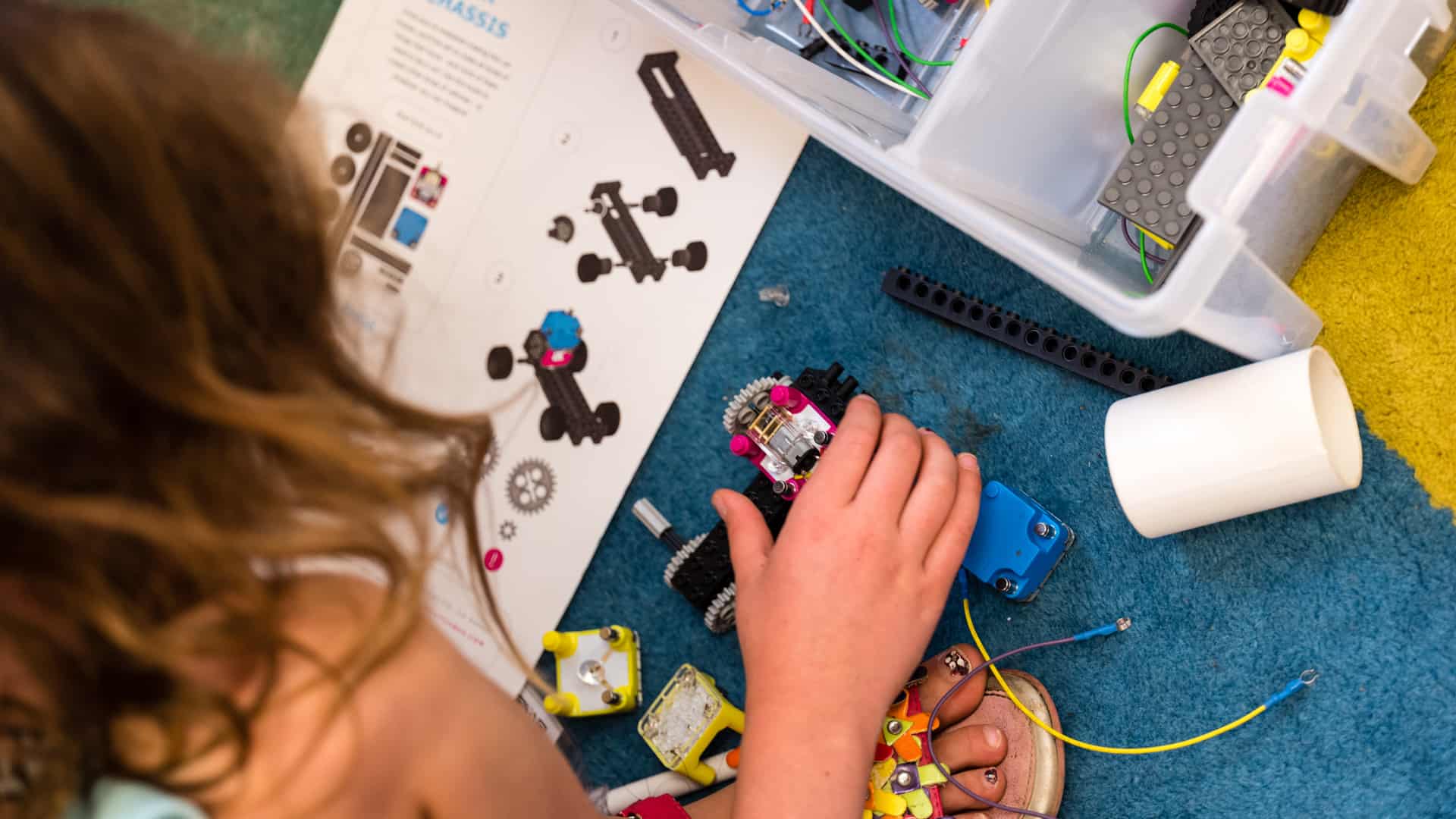 TINKER LAB:
Formally known as the Makery, we've revamped this space to encourage more creation & collaboration. We believe that tinkering, making, & engineering are essential to development, problem-solving, and to navigating childhood itself. In our Tinker Lab, we equip campers with a unique combination of materials and building supplies, to create endless ways to explore and create. We also believe that fostering community and connection has become increasingly important, especially after the pandemic. We've thoughtfully designed the Tinker Lab to encourage imagination, innovation, and interaction–where campers can work together to problem solve and make anything at all. In addition to revamping this space, we're adding exciting tools like Qubits, more magnet tiles, and even 3d doodle pens. We'll also be piloting a partnership with award-winning Rigamajig Building Kits at select locations, and hope to bring it to all of our camps in the coming seasons.
In addition to the big changes coming to the Media & Tinker Labs, we've added some extra features to spice up the rest of our offerings.
THE STAGE: 
New custom backdrops & props to help bring camper films & plays to life

All new karaoke systems with a larger song catalog to ensure your favorite hits are available
BAKERY:
New recipes and creations to bake. Snickerdoodles, anyone? 
SPORTS & REC: 
This summer we're giving our local sites more autonomy to provide sports & recreation equipment specific to the layout and interests of each camp location. Be sure to check your

local camp page

closer to summer to see what specials will be available while you're at camp
LOUNGE:
We've refreshed all the games and books available in the Lounge

Expanded Marble Maze kits to enhance course creations

New, larger, foosball table available for campers of all ages
QUIET CORNER: 
This summer we're adding a quiet corner for kiddos to unplug with activities such as sensory objects, puzzles, & fidget toys
GAMESHOW:
We're adding new prizes & prize levels to our S&K bingo-like game, "Antler's Up"

Along with new & improved grand prize options such as a gum-ball machine, remote control tarantula, or a giant donut pillow, we're introducing Moose Bucks, which can be exchanged for small prizes, or saved up for larger prizes throughout the summer
HELPING HANDS: 
Camps will now have a dedicated staff member scheduled to support our younger campers. Families will be able to opt-into this service to provide some extra guidance for their little one while at camp
MENTORSHIP PROGRAM:
This summer we're piloting a Mentorship Program for teens at 9 of our camp locations. This program guides children ages 14-15 through camp experiences aimed to develop their leadership skills, all while honoring our approach to self-directed learning.

While we hope to expand this program to all camp locations in the near future, you can find it at the following locations for Summer 2023:
Atlanta, GA
Washington D.C–Capitol Hill
Austin–South, TX
Chicago–West Loop, IL
Seattle–Meadowbrook, WA
Palo Alto, CA
Corte Madera, CA
Fremont, CA
Manhattan Beach, CA
New Perks for Adults
Don't worry–we've got a new feature coming for the rest of the family to get excited about, too.
EXPRESS CHECK OUT:
This summer families will have access to a new, streamlined checkout process in their S&K accounts called Express Check Out (ECO). Just log into your account, select ECO to tell us when someone from your pick-up list is coming to grab the kiddos, and we'll start getting them ready to go. While we can't promise the campers will always want to leave when you arrive, this will speed up the check-out process for smoother end of day transitions.
More Still to Come
On top of everything above, we have more exciting additions, like new weekly specials coming to your local camp. Check back soon or join our email list, to be the first to know about more exciting updates coming to Steve & Kate's this summer.
Get Notified For All the Latest S&K Deets